Performances
In May, we host our annual end of the season dance recital. This show includes all of our dancers enrolled for that season. The students perform routines displaying all of the disciplines of dance taugh at our school. Our show is held at Braintree's East Middle School. Dancers purchase stunning costumes for each class they are enrolled in. These costumes are measured by the studio and ordered for the dancers. This experience - to be on a stage- is one that your child will never forget! It builds confidence and gives such a sense of accomplishment.
Tickets for this performance go on sale in March/Apri to all studio familiesl.
The recital date for our May 2013 performance is Saturday May 11th 12pm
with our full dress rehearsal onThursday May 9th - after school hours.
Dress rehearsal is mandatory for all dancers and is open only to the dancers and parents.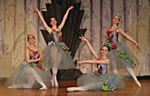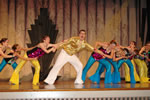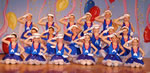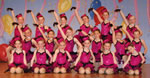 Ballet performances: The Braintree Ballet Company presents full length ballet productions to the public each year. The Nutcracker will be presented in December and students are chosen based on an audition process.
NUTCRACKER
Each year the Braintree Ballet Company ( our own ballet company) performs the "Nutcracker Ballet". Auditions are held each year for the performances that take place in December. Students enrolled at Melissa Kelley's Dance Studio of Braintree,LLC for more than one full regular dance season are eligible to audition for this wonderful ballet. (note: there is an age requirement to meet each year)
This has been a wonderful opportunity for the students of The Dance Studio of Braintree. Each year children wait to see the results of the audition to see if they will play the part of a mouse, an adorable polichinelle, a party child, an angel,or even Clara.Our company members may share the wonderful experience of dancing the famous roles of Marzipan, Dew Drop Fairy, or the Sugar Plum Fairy. Of course, there are so many other wonderful parts as well.
The performance includes many talented dancers, beautiful scenery, many gorgeous costumes designed exclusively for The Braintree Ballet Company, a sparkling sleigh carrying the Snow Queen, a battle between the mice and soldiers, a palace of sweets, and a growing magical Christmas tree.
Don't miss this holiday treat and the chance to see your own studio member at their very best. Our Nutcracker has become a yearly tradition for so many families all over the south shore and beyond. We hope you add this special performance to your holiday celebrations.

Tickets go on sale to the public in October. You can pre-order your tickets by seeing Ms Melissa at the studio in September, email us for ticket information or to receive a ticket order form, or click here to link to The Braintree Ballet Company web site for more details and a printable order form.
(for our performances please note that children under age 3 are not permitted)