OUR MISSION:
TO PROVIDE QUALITY, CLASSICAL DANCE EDUCATION IN A PRE-PROFESSIONAL ENVIRONMENT FOR DANCERS WISHING TO FOCUS ON THE ART OF BALLET AND OTHER DANCE FORMS. OUR STRUCTURED PROGRAMS ARE PERFECT FOR THE DETERMINED, DEDICATED DANCER AS WELL AS THE YOUNG DANCER LOOKING TO EXPLORE THE WORLD OF DANCE. OUR GOAL IS TO HELP EACH AND EVERY STUDENT ACCOMPLISH THEIR DANCE DREAMS AND HOPE THAT THEY RESPOND TO THE EDUCATION WE OFFER WHCH WILL HELP TO REACH THEIR GOALS.
All of our programs are designed for the dance student. Our classes are not offered to teachers, studio owners and other choreographers.
PROGRAMS OFFERED
Class placement is at the discretion of the director, not the parent. All new students age 9 and up must audition to see if class placement is available.
Pre-Ballet: (ages 3-51/2, pre-school and kindergarten)
A special class designed to introduce children to dance through the love of music and movement. Dance terminology is presented during these early stages of muscle development, flexibility, strength, and coordination while combining dance steps to classical ballet music to help create a beautiful, young dancer while also learning the basics of a classical ballet class.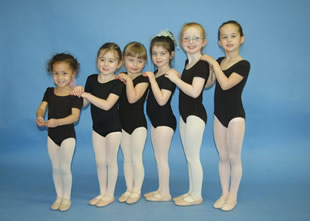 Classical Ballet: (ages 6 and up) MANDATORY FOR ALL STUDENTS
Includes traditional barre and center work designed to build a beautiful, graceful, and healthy body with fine posture and poise. After sufficient study of ballet, proper technique and a strong body, a dancer may advance to Pointe work.
Classical Ballet class is a mandatory class to be enrolled in at our school because we feel it is the "backbone" of all other dance forms. Discipline and technique can be mastered at best. Once enrolled in classical ballet, a student may also explore the other styles of dance we offer by enrolling for other classes offered to their age/level.
Since beginner classes are only offered at younger ages, some dancers wishing to join our school may be required to take an audition/placement class to see if our program is best suited for their individual dance needs.
Pointe:
Offered to students who have reached an advanced level of classical ballet. New students already on Pointe must be evaluated for correct level placement.
Pointe classes are offered to qualifying students in addition to their regular classical ballet class. It is important to continue improvement on technique and strengthening skills in ballet class to ensure a strong and well trained Pointe dancer. Pointe students are evaluated every dance season for proper level placement.
Pointe work is only offered to students who have been evaluated by the director/instructor who have found that student to be ready for the challenges of Pointe and the intensity of this form of dance. It takes more than just a few years of classical ballet study to dance on Pointe.
Pointe students should plan to continue to take classes through the summer, if possible. Pointe students who take the summer off and have been off the Pointe shoes and out of a structured classroom environment should expect a delay in their progress starting in September since it will take some time to rebuild some of the strength lost from being off Pointe for a few months. . It will take these dancers time to get their strength back which makes is difficult to place them in classes with Pointe dancers studying all year long and to expect that they will progress at the same pace.
Tap: (ages 6 and up)
This, the most rhythmic of the dance forms, is an excellent way to increase coordination of the mind and body and to develop a sense of rhythm, timing, and expression. Tap is an excellent expression of the joy of dance and a wonderful way to improve on rhythmic skills and coordination. Our tap classes provide the dancer with experience of the traditional and classics to the new and hip styles of tap.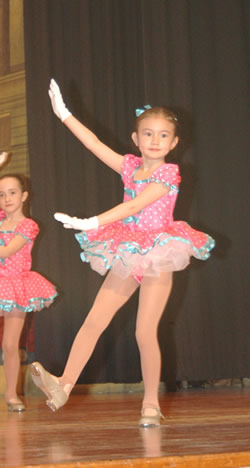 Jazz: ( age 6/7 and up)
Jazz has borrowed from all other dance forms to develop and create a technique all its own. Jazz has the widest variety of musical accompaniment, from the classics to the sounds of today. Lyrical Jazz is also combined into intermediate/advanced jazz classes in order to allow students the chance to experience this popular type of jazz dance.
Jazz is an excellent class to add to your ballet studies if looking for additional stretching and strengthening workouts. Jazz pushes the body and expects nothing but energy and control. Our jazz program offers a variety of styles of jazz to the dancer. Lyrical, Modern, Classical, Musical theatre and much more may be experienced through the season.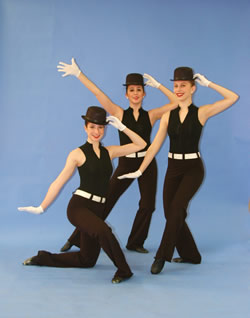 NEW FOR DSOB!
Hip Hop!!: ( ages 6 and up)
Hip Hop is currently a very popular style of dance. Not considered classical in any way, it is however, its own ever changing form of art that has history. Known as a culture in iteself, hip hop must be taught, if done correctly, by instructors who are trained to teach and who understand the body as well as uphold the essence of hip hop dance and how it has influenced the community, the world of dance and lives of so many. DSOB waited until we could offer such classes taught only by some of Boston's best! Our program will include full education of hip hop dance, its roots and its constant changing format. Hip hop is the "commercial dance" of today. DSOB is thrilled to offer these classes to help enhance the dance expereince for our well trained, focused dancers and to also give the youth of the studio some insight to a form of dance that is exciting and current. We are well aware of some of the "more mature" sides of the hip hop dance world however, our teachers will use age appropriate music as well as non offesnive choreography keeping in mind that our students are still children. It is important for us to offer a well rounded education in dance to our students who wish to explore it and hip hop will be a great addition to the current syllabus at DSOB and we hope you will think so too! *** a special boys only class is available and it does not require enrollment in ballet classes- contact us for more details**


Lyrical, Modern, Contemporary, Pas De Deux, Folklore ( Cultural), and Musical Theatre: (intermediate and advanced levels only)
These classes are either combined during the year at various times with the ballet and jazz classes or hosted as workshop and master classes to offer the students a chance to see other forms of dance that are avaialble and most likely offered in college programs. These styles also help the dancers to explorte movement in ways that help advanced the more classical styles.
Master Teachers: Ms. Melissa, the director, brings in professional performers from the best stages in the US to influence, motivate and inspire her students. Master classes have been and will continue to be offered by some of the biggest names in the dance industry. Melissa selects these teachers carefully so her students will learn from true artists and classically trained professionals.
Just to name a few: Dion Wilson, former principal dancer with Alvin Ailey, Dance Theatre of Harlem and Philadanco, now touring with Broadway's Lion King. Brittany Marcin Maschmeyer, numerous Broadway credits and 6 year Radio City Rockette, now on Braodway in Follies, John Selya, former American Ballet Theatre Dancer and multiple Broadway credits now principal dancer with Twyla Tharp Dance...... and so many more amazing talented people have come into our studio family.

The students are also invited to attend student workshops outside of the studio that are held by 2 of the dance organziations Melissa is a member of. These "convention" style workshops are fun and informative for the dancers and gives them just one more opportunity to meet and be educated by some of the most qualified professionals in the business.